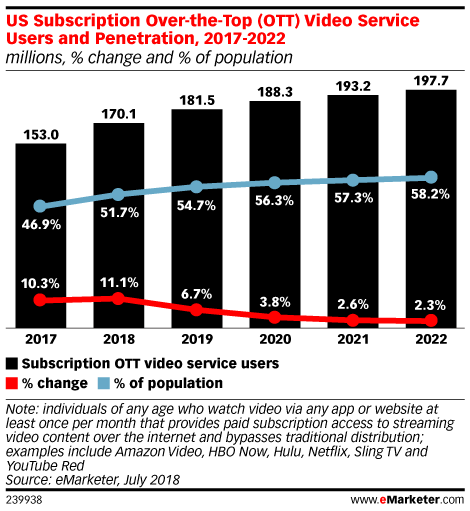 If your brand depends on video to drive sales or video content is your product then you MUST make sure you have video experiences across all screens including next generation TVs. The timing has never been better to use video to engage audiences outside of YouTube and Facebook by creating video apps.
Research shows that subscription OTT video service viewers will rise to 170.1 million or 51.7% of the US population in 2019. More people are cutting the cord and looking for alternatives to Facebook and news sites to consume video, turning to services like Netflix, Amazon and others. While syndicating to those channels is always a good idea, you want to make sure you create a solid video subscription product that you own and control on AppleTV, Roku, Amazon Fire etc. An with the technology and software now available, its affordable for businesses of all sizes to get into the OTT game.
---
---
As you go out to evaluate video platforms for your OTT apps, make sure you're covered in these key areas:
Complete ownership and control of where the video content is hosted and stored. Make sure you are hosting your videos where they can't be accessed by anyone outside your team. Your video player also needs to be locked down with DRM or other encryption so files can't be ripped and duplicated. Security is very important so your content doesn't get leaked to the publicly, losing you money.
Ownership of subscribers and billing information. Since delivering video to subscribers is your business you need to treat it that way — your business is your list of subscribers and their credit card numbers. Make sure that you retain ownership of this key business asset. There is a high likelihood that you may change billing vendors or video platforms in the future and being able to walk away with your subscribers is key.
More than just a one-time thing. When creating streaming apps for your business, remember Apple, Google, Amazon and others change their browsers and platforms at least once a year, meaning your app needs to stay up to date with those changes. Launching video apps with the right strategy, partner and technology to account for the recurring, ever-evolving nature of online video is very important.
With those guiding principles in mind, we've hand selected a sample of OTT video platform vendors from our directory. With representation across the spectrum of scale and cost, these solutions provide true end-to-end workflows and technology for launching and managing a video content business…
 

Zype is video distribution software as a service that enables professional video content owners to launch and manage direct-to-consumer streaming video products and services. They offer cloud-based subscription software, infrastructure, and APIs.

Accedo provides a suite of applications, tools and services designed to deliver next-generation TV experiences. Accedo's cloud-based platform solutions enable cost-effective roll out and management of application offerings and stores for multiple dev…[Read More]

Contus Vplay is a cloud-based solution to build a video on demand website. It helps create a video streaming website that can be scaled quickly. It comes equipped with multiple security mechanisms including access control, encryption and DRM. Contus …[Read More]

dotstudioPRO is cloud platform and network for launching video streaming apps for OTT and mobile devices such as AppleTV, Roku, and Amazon. Monetize video content with subscription and pay-per-view toolsets and analytics.

Icareus is an online video and connected TV platform with a complete back-end to manage video assets, channels, subscribers and subscription and transactional business models. Icareus makes it easy for broadcasters and content creators to build and m…[Read More]

Lightcast is an online video platform and agency focused on delivering cost effective connected TV, on demand and live video solutions for organizations with video libraries and audiences of all sizes.

Muvi provides a platform that makes it easy launch and manage multi-screen OTT Video On Demand (VOD) experiences without extensive development. Muvi Studio includes video hosting, CDN, content management, transcoding, DRM, a video player, website and…[Read More]
---